THE PORT OF THESSALONIKI
The port of Thessaloniki is rated among the largest ports of the Eastern Mediterranean.
Taking advantages from its privileged geographical location (it is the natural outlet of the Balkan Peninsula) attracts significant commercial traffic and transportation activities from all over the world.
A transportation network constituted from rail, motor, air and sea lines connects the port of Thessaloniki with the Eastern and Western Europe.
Since this port exists, it used to be the central entrance from Mediterranean sea to the Balkan countries. Till today it keeps this essential activity.
Since the older times and further to the recent ones this port has been claimed by all Balkan nations to be possessed and this one has caused lots of disputes and wars. However, as a response to the above our port remains an international area.
Its modern equipment, its storage facilities, and its security services allow it to be considered as a good save berth. In the Free Zone there are the following equipment.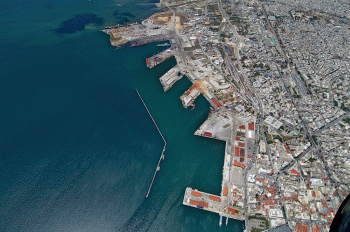 | | |
| --- | --- |
| Piers | 3 |
| Berthing docks | 10 plus containers dock |
| Depths | 10m - 15m |
| Electric Cranes | 28 (for heavy cargo 8) |
| Lifting capacity | 3ton - 40 ton |
| Bridge Cranes (CNTRS) | 4 - capacity 50 ton |
| Transtainer | 1 |
| Warehouses | 5 |
| Railway connection | YES |
| Container Terminal | YES |